Our Facilities
Winterstoke Hundred Sports Centre is a fantastic, modern, well maintained centre with excellent parking facilities. We can accommodate a diverse range of sports and activities within our Sports Hall, All Weather 3G pitch and Main Hall facilities. Get in touch with us on 01934 313297 to find out how we can accommodate your booking needs.
Sports Hall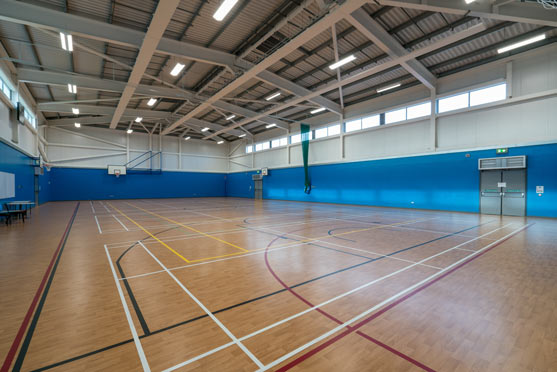 Winterstoke Hundred Academy's contemporary sports hall can be a host to a variety of sports including badminton, volleyball, netball, basketball, 5-a-side football and much more. Our four-court sports hall is available to hire by clubs, groups or individuals, as well as for events and competitions.
Main Hall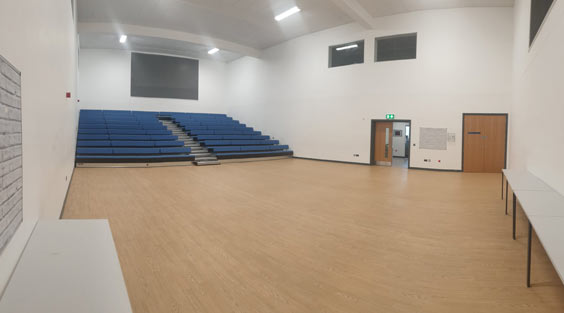 We have a fantastic sized main hall inside our centre which can accommodate an endless list of activities, groups and clubs from fitness classes to choirs. This facility also has bleacher seating available to book where required.
All Weather 3G Pitch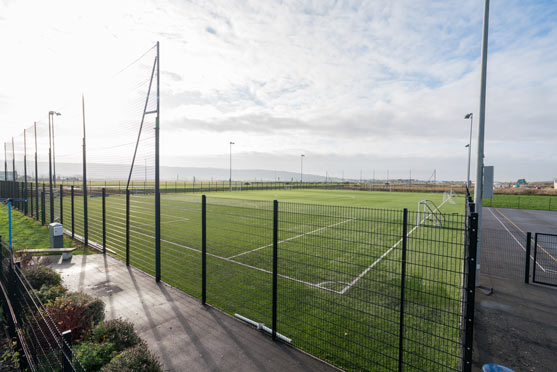 The centre is also home to a floodlit all weather 3G pitch, which can be used for both football and rugby. Our 3-court pitch can house regular bookings for training needs alongside one-off bookings for matches. The 3G pitch is RFU registered until 2020 and regularly maintained to high standards throughout the year.
Enquiries and Bookings
Terms and Conditions
Terms & Conditions of Hire
Who is this contract between?
The contract is between us and you, not any other person or organisation you book facilities for.  You accept responsibility for paying all charges including any extra charges arising under this contract.  You may not transfer your rights under this contract to any other person or organisation.
Confirming bookings
We will confirm your booking only on the basis of these terms and the confirmation of booking form.  The confirmation of the booking will state the facilities which you have booked, and the times required.
Paying your invoice
We will invoice you at the end of each four week period.  You must pay to the address shown on the invoice within 30 days of the date of the invoice.
If you do not pay the invoice in full within 30 days, we reserve the right to suspend bookings.
Altering your booking
If you alter your booking, we will send you confirmation via email, so that you know exactly what you have booked and what you are responsible for.
The confirmation email will set out the facilities, which you have booked and agreed with us.  We will require 7 days notice to alter any booking. Booking alterations can only be completed with the Sports Facilities Manager.
Cancellation Schedule For Bookings
We require 7 days notice to cancel any booking, You must make cancellations with us in writing by email to: [email protected] .  No cancellation takes effect until we receive your written cancellation.
Failure to do so we will charge the full amount of the session cancelled, and we will expect payment in full.
Changes or Cancellation by us
We reserve the right to alter or cancel any booking subject to 3 days notice if the facilities are needed for an event, school use, or essential maintenance If we cannot keep to the terms of a booking for reasons beyond our control it may not be possible to give this notice.
Winterstoke Hundred Sports Centre will not be liable for any loss on your part as long as we could not have avoided the alteration or cancellation by taking reasonable steps.  Reasons beyond our control include, but are not limited to, the failure of electricity, heating systems, water supplies, fire or flooding.  If this happens we will make reasonable efforts to offer you an alternative.  ~We cannot accept responsibility if we cannot provide rooms or other facilities for reasons beyond our control.
Use of the All Weather Pitch
To use the all weather pitch, all users must wear the correct footwear. Only studded football boots are allowed on the pitch. We will not accept any other type of footwear on the pitch (No trainers, astro boots, running spikes or blades) The hirer must ensure all participants in their group have been informed of the correct footwear to use. Anyone found to have the incorrect footwear will not be allowed to use the pitch. Failure to adhere to this can result in cancellation of the booking. £10 Fine per person will be added to the groups booking charges to anyone who is using the pitch with the incorrect footwear.(The Fine is Per Person)
Bookings are 55 mins long. No Spectators allowed on the pitch.
No food or drink is allowed on the pitch, only capped bottled water or sports drink. No alcohol is allowed on the premises. No smoking allowed anywhere on our premises. No chewing of gum or dropping of chewing gum is allowed on the pitch. All litter must be removed from our pitch once your session has ended. Winterstoke Hundred Sports Centre reserves the right to ask individuals to leave the premises if there conduct is not acceptable.
Access to Premises
We can only make rooms available for the time agreed when booking.  If you want an extension, you must agree the extension with us in advance and agree to pay our additional charges.  We may also make additional charges, where you want access to the Winterstoke Hundred Sports Centre premises outside of premises' normal hours of opening during, prior to or after your event or booking.
We reserve the right to refuse entry to our premises to any person without giving any reason.
You and your guest/participants must vacate the premises and remove all of yours and their belongings and equipment by the time you agreed with us in your booking.  If you or they do not do so we may remove all such property without liability to you or the owner and recover all our costs from you.
Conduct
You are responsible for the orderly and safe conduct of the booking and for ensuring their employees, contractors; agents, guests and other participants do not interfere with any other person's use and enjoyment of the Winterstoke Hundred Sports Centre premises.  You are only permitted to use the facilities outside of the normal Academy day (after 1700hrs Mon-Fri) unless previously agreed by the Principal, Business Manager or the Sports Facilities Manager. Winterstoke Hundred Sports Centre reserves the right to have sight of DBS certificates for every user including their employees, contractors, agents, guests and other participants.  Authorised representatives of Winterstoke Hundred Sports Centre shall be entitled to enter at any time the hired room or hall and require the function or meeting to end if, in their opinion, the continuance of the function or meeting could lead to violence or damage to the Academy's premises or reputation or staff or in any way contravenes either this agreement, or Health and Safety Regulations.
First Aid
You must make your own provision for first aid for the booking. Winterstoke Hundred Sports Centre accepts no responsibility in this respect.
Damage
You shall repay to Winterstoke Hundred Sports Centre on demand the cost of reinstating and replacing any part of the premises and any furniture, equipment, or other property belonging to the Academy which shall be damaged, destroyed, stolen or removed during the period of hire or prior or subsequent thereto if in relation to or by reason of the hiring or occupation. The amount of the cost shall be certified by the Academy whose certificate shall be final.
Overnight arrangements
When a booking covers consecutive days, it will be your responsibility to ensure your own belongings and equipment are not left overnight in the specified hall or room unless by prior arrangement.
Accommodation and fire procedures
In no circumstances must the number of people attending any meeting or function exceed the maximum accommodation of the room or hall hired as laid down by the Academy. In the event of a fire alarm, you will be responsible for the immediate and safe evacuation of all persons connected with the booking. You are required to inform all persons of the location of fire exits and the assembly point before the commencement of the function.
Delivery
Winterstoke Hundred Sports Centre will not take any delivery on behalf of the Hirer unless by prior arrangement with the Site Manager, to who details must be submitted in writing. The Academy does not accept liability for the loss or damage to deliveries even where prior consent has been obtained. The hirer is responsible for moving their equipment in and out of the premises.
Recordings and interviews
Television or radio recordings, broadcasts or interviews may only take place in the building or its grounds with the express permission of the Winterstoke Hundred Principal. Special rates apply for this purpose.
Alcohol and smoking
Under no circumstances may you bring alcohol into the Winterstoke Hundred Sports Centre or grounds without prior written confirmation from the Principal. Smoking is not permitted anywhere on the Academy premises or grounds at any time.
Disabled users
Within the confines of the building, the Academy will take all reasonable steps to accommodate disabled users. You should advise the Academy in advance if aware that disabled users are attending the meeting or function.
Electrical equipment
You may use your own electrical equipment where it has been PAT tested (Portable Appliance Testing) by the user and where permission has been obtained in advance. It will be your responsibility to obtain adequate insurance to cover the use of any electrical appliances brought in to the building which must be shown to the Academy upon request.
Performing Rights and Phonographic Performances
You will be responsible to comply with the requirements of the Performing Rights Society and of Phonographic Performances Ltd, and be responsible for the payment of any taxes or royalties chargeable or payable in respect of any musical works performed at the hiring whether by live musicians or by records, compact discs and/or tape recordings.
Martial Arts
Organisers and instructors shall be in membership of one of the following bodies which are recognised by the Sport Advisory Group on Martial Arts:
British Aikido Board                            British Council of Chinese Martial Arts
British Kendo Association                   British Taikwondo Council
UK Tank Soo Do Federation              British Ju Jitsu Association
British Karate Federation                    English Karate Governing Body
Sporting groups
Sports Groups or their instructors must be in membership or registered with the appropriate Sporting National Body and comply with that body's policy on coaching.
Animals & Pets
Please make sure that the members of your party know that no animals or pets of any kind, except guide dogs are allowed on our premises.
Liabilities
We accept no responsibility for loss or damage to property (including personal property) brought on to the Winterstoke Hundred Sports Centre premises.  We shall not be liable for any consequential loss of any other loss, or any damage or injury (except personal injury or death caused by our negligence), which may arise out of or in connection with the use of Winterstoke Hundred Sports Centre premises by you or any member of your party, however the loss is caused or the damage or injury is sustained.
Limited car parking is provided, but it is strictly at the owner's own risk.
You agree to accept full responsibility for and to indemnify Winterstoke Hundred Sports Centre, its officers and servants against all or any claims in respect of all or any accidents, loss or damage (including personal injuries) howsoever caused in connection with any business or meeting conducted or carried out by you on your behalf. Winterstoke Hundred Sports Centre does not accept liability for personal injury to, or the loss or damage to clothing, equipment or other property belonging to persons using the premises. However, nothing in this clause shall exclude the Academy's liability for its own negligence.
Insurance
You should make sure that you are fully insured against all losses or liabilities that may arise out of your event and will produce to Winterstoke Hundred Sports Centre, upon request, written evidence of a current public liability insurance with a limit indemnity of not less than £2,000,000. (including but not limited to those referred to in clause 24).
Security/Disruption of Meeting etc.
It is your responsibility to inform us if you have any reason to believe that your event is going to raise any security or safety issue/s, or if you know of any reason why we might need to provide extra security for your event (example because there is a risk of disruption) however remote the issue or reason may be.
You will be in breach of the conditions of booking if you fail to inform us of any such issue or reason.  You must indemnify us against all damage or liability we suffer or incur as a result of any such issue or reason.
Services provided by someone outside the Winterstoke Hundred Sports Centre
If you ask us to arrange for a service provided by any person or organisation outside the Winterstoke Hundred Sports Centre and we agree, we will act as your agent.  Any resulting contract is between you and the person or organisation providing the service.  We will not be responsible for the service.  We will not be responsible for the service in any way.  We will treat the person or organisation as a person visiting you at the Winterstoke Hundred Sports Centre.
Using the Winterstoke Hundred Sports Centre name without permission
You may not use the name Winterstoke Hundred Sports Centre, the name or logo of the Winterstoke Hundred Sports Centre or of any of its departments or any photographs of any part of Winterstoke Hundred Sports Centre without our prior written permission.
You must not affix or permit anyone to affix publicity for your event to any of our premises without our prior written consent.
Information for Users
Please read the points below and ensure that all relevant persons are made aware:
All Fire Escape routes and Exits must be kept clear at all times.
At no time is a Fire Exit or Fire Door to be wedged open. These doors are clearly marked.
Hirers must not bring, or plug into our mains any electrical equipment that has not passed a current portable appliance test. All equipment to be used must be highlighted at the time of booking.
No chewing gum is to be consumed whilst in the building.
No alcohol is to be brought into the Winterstoke Hundred Sports Centre unless they have written consent of the Principal
Smoking is strictly forbidden in all Winterstoke Hundred Sports Centre buildings and grounds.
Horseplay, practical joking, running in the building, misuse of equipment or any other acts which might jeopardise the health and safety of any other person are forbidden.
Hirers must not adjust, move or otherwise tamper with any electrical equipment or machinery in a manner not within the scope of their conditions of hire.
All waste materials must be disposed of carefully in the bins provided and in such a way that they do not constitute a hazard to others.
All injuries must be reported to a member of Winterstoke Hundred Sports Centre staff before vacating the building.
Walkways and corridors must be kept clear and free from obstructions at all times.
All users should pay attention when using stairs and use handrails at all times.
Trailing cables should not be left in any passageway.
Hirers are prohibited from using any tool or piece of equipment for any purpose other than its intended use.